Xerve.in has come with a great offer where you will get 100% cashback on Flipkart, Myntra, Swiggy, Dominos, Ebay, Jabong (and many other online merchants also). You can get 100% cashback (upto Rs.1000 on purchase value >=25,000 and upto Rs. 500 On purchase value < 25,000). And the best part is that the Xerve cashback can be transferred to you bank account via NEFT.
---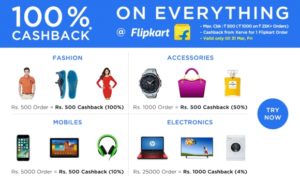 ---
How to use the offer:

VISIT OFFER PAGE HERE
Click on your coice of Merchant
Follow the steps given.
Earn Upto 100% Cashback : on Your First Flipkart Order (via Xerve) between 22nd to 3rd April '17
Earn Upto 10% Cashback : on Your 2nd & All Future Flipkart Purchases (via Xerve) between 22nd to 3rd April '17
PLEASE DO NOT VISIT ANY OTHER CASHBACK, COUPONS or OFFERS Website/App to ensure you DON'T MISS OUT on Xerve's Mega Cashback
Note 1: Orders below Rs. 25000 = Rs. 500 Max. Cashback | Orders of Rs. 25000 & above = Rs. 1000 Max. Cashback
Note 2: Xerve might need Upto 72 Hours to track/obtain the details of Your Order from Flipkart and credit Cashback to Your Xerve Account
Note 3: You will receive 100% Cashback* ONLY ONCE during the Offer Period (applicable across All Brands in Xerve's Cashback section); but, you can get 10% Cashback* MULTIPLE TIMES on All Brands and for Multiple Purchases. (ex: 100% Cashback* on Your Flipkart Order, 10% Cashback* on MakeMyTrip Bookings, 10% Cashback* on Swiggy Orders etc.)
---
For more Information Visit Xerve Cashback Offer Page.
---