Hello Digital Life, 😉 I guess you are here because you own a Jio 4G SIM card and or you might be searching out to find the recent changes in Jio Plan and new launch of Jio Summer Surprise offer on 31st March 2017. I have see so many people who are very much confused with regard to Jio Services after the recent changes. So, I have Decided to cover all the main points about Jio and to clear out some basic confusion.
In this article I am explaining things according to what I understood about the recent changes in Jio Plans, and Jio Summer Surprise offer. All the content is based on the current available information on JIO website and other techNews websites and also Press Release by Mr. Mukesh Ambani.
So read the full article to get full understanding of the upcoming Digital Life.
[ IMPORTANT UPDATE ] 10:00 PM 6 April 2017
On 06 April 2017, Telecom Regulatory Authority of India (TRAI) advised Jio to Withdraw the JIO SUMMER SURPRISE offer where users were getting 3 months of free service. Although offer is not withdrawn at this instance but JIO said that they want to comply with regulatory's advise so offer will be withdrawn in the next few days. If you want to enjoy the Jio Summer Surprise benefits we would advise you to recharge you Jio number as soon as possible.
[UPDATE 2] 11:10 PM 6 April 2017
Note: We tried contacting Jio Customer Care, they said indirectly to recharge today before midnight.
[UPDATE 3] 11:55 PM 
6 April 2017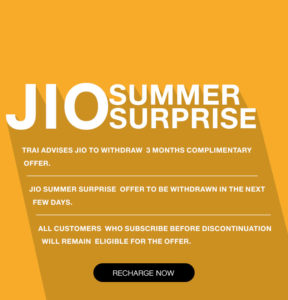 What is Jio Prime?
Jio Prime is a Customer Membership Program from Jio which has a validity of 1 year, from 1st April 2017 to 31 March 2018. The cost of Jio Prime membership is Rs.99 (1 Year Membership). By Paying Rs.99 you become a Prime Member of Jio (Customer with special status).

What will I get in Rs.99 ? Do I get Data/Voice benefits ?
When you buy Jio Prime membership for Rs.99 you will become Jio Prime Member for 1 Year. There are No DATA/VOICE benefits associated.
What are benefits of Prime Membership?
With introduction of Prime membership Jio will have 2 type of customers after 15th of April  2017,
1.) Prime Members
2.) Non-Prime members
Now Prime members will be given some extra benefits time to time, and some surprises.
The first main Difference for a Prime and Non Prime Members is the plan benefits. All the Plans offered by Jio has different benefits for Prime and Non-Prime members. Below is the Image where you can see the difference in the benefit for Prime and Non-Prime Members will get.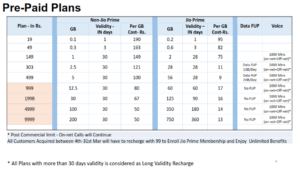 What is the last day to get Prime Membership?
31st March 2017 was the last date to get Jio Prime Membership but the date has been extended to 14th of April 2017 with the Introduction of Jio Summer Surprise, as stated in a press release by Mr. Mukesh Ambani.

What is JIO SUMMER SURPRISE?
Jio SUMMER SURPRISE is the first of the many surprises to the Jio Prime Members. In this Program if a Prime member buys a plan of Rs.303 and above, will get 3 months free befefit on same plan. So as last date to enroll for Prime Membership is now 14th April 2017, you can get Prime Membership for Rs.99 and any other Plan of Rs.303+ to get the SUMMER SURPRISE benefits.
So the conclution is if you get Prime Membership and a Plan of Rs.303+ before 14th April 2017 You will get same plan benefit for first 3 months for FREE and the plan subscribed will start from 4th month.That means in the cost of 1 month plan you will get the benefit for 4 months.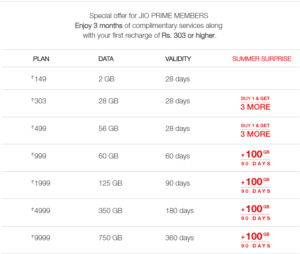 I have already rechrged with 149 or lower plan will I get SUMMER SURPRISE benefit?
No, but you can still recharge with 303 or higher plan before 15th April 2017 to get the benefit and 149 plan will get activated in 4th month (July) while 303 Plan will be activated in 5th month(August).
What about Network issues in Jio?
Jio is offering only-4G Networks almost covering all the circles and we all know about call drops over the past time but most of the problems are caused by non-cooperative nature of other network providers. Jio over the past few months is constantly improving its network day by day and we hope the network reliability will be increased in the coming times. Its obvious that a company offering poor services can not stay for long even if provide extremely good plans So whatever Jio may offer, they have to provide a reliable network to their users. We hope that in coming times Jio will offer a reliable network to the users.
For Jio offers and discounts visit Recharge Section from Menu 🙂
---
For more techInfo's, offers, tricks and deals..
Join our Facebook Group and
Like the Facebook Page. 😀
Good Bye !! 😀 😉
---
Share the article and spread the info.